Pelosi Slipped Another Liberal Goody Into Her Bill – She Wants To Give Millions Through PPP To Planned Parenthood
Nancy Pelosi kept the House closed as her party developed a massive spending bill.
The $3 trillion package is supposed to battle the virus. But it includes a liberal wish list, including blue state bailouts and tax cuts for rich liberals.
And now, here is another little nugget Nance slipped into it…
From Live Action:
While the bill contains the Paycheck Protection Program, it removes safeguards preventing abortion facilities from applying to receive funds. The aid local and state governments receive from the federal government can be used to aid abortion facilities.
Wow. Pelosi's "HEROES" bill will extend the Paycheck Protect Program, but it removes a rule that prevented Planned Parenthood from getting money.
Which means a chunk of this $3 trillion package could go to this group, and groups like it, that are despised by the conservative right.
Keep in mind, Planned Parenthood already gets a large amount of funding from the federal government.
Not to mention funding from state and local government AND private donations from liberals.
So, do they really need to take money from a program meant to save businesses struggling with lockdowns?
What does PP do that has any connection with COVID relief? Shouldn't this money go to healthcare workers on the front lines?
The silver lining in all this is that this bill has little chance of passing in the Senate. And the White House has already promised to veto it if hell freezes over and it makes it to Trump's desk.
But this bill is a perfect picture of Nancy's—and the rest of the Democrats'—priorities.
While America battles to save the economy, she's throwing money to Planned Parenthood.
SHARE if you stand against Nancy Pelosi's far-left bill.
Source: Live Action
Omar Thought She Deleted The Tweet – Then "Texas Ted" Drops His Senate Hammer
She slipped up and tried to cover it up – so Cruz brought it crashing down on her.
Ilhan Omar is shaping up to be the worst decision Democrats have ever made.
She's been making terrible arguments for the Democrats. But she recently said something she had to feverishly delete immediately.
But nothing disappears on the Internet. This is what she said: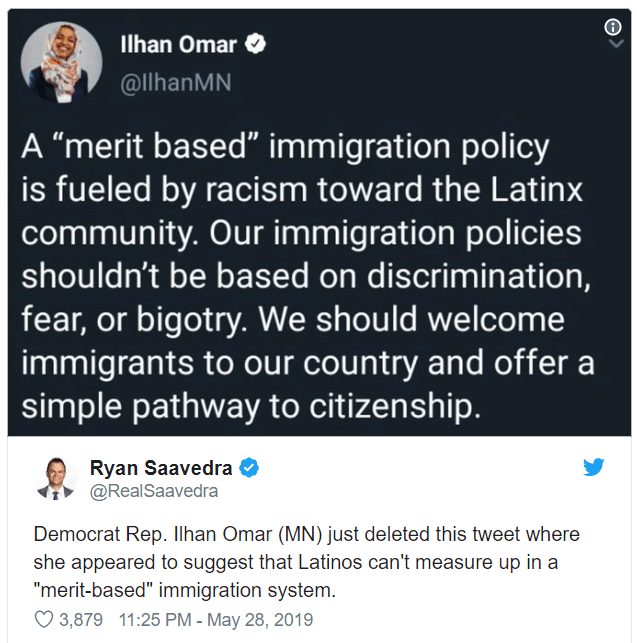 Hmm… sounds like she's saying Hispanic immigrants aren't educated or qualified to meet merit-based standards. Because she is.

Wow. Omar thought she could trash the president. But she ended up insulting millions of people. And Ted put her in her place!
Her tweet revealed what Democrats really think about Hispanic immigrants. Why do Democrats think Hispanic people can't meet very reasonable merit-based standards?
A merit-based system means that skilled, educated, and qualified people will be able to enter the country.
That's a good thing for America and immigrants. Only Democrats seem to want to keep good, skilled people out of this country.
We need good people to come to America. And we need to get rid of our broken immigration system that hasn't worked for decades.
Thank goodness for leaders like Ted Cruz, who will stand up to the Democrats and support real improvements to our country.
SHARE if you want to see Omar GONE!
Source: Fox News
After Democrats Hold Up Border Wall – Private Citizens Get The Job Done For Trump
Democrats said they had no chance – well, look at them now.
The Democrat Party has done everything possible to stop Trump's new wall – but they never saw these guys coming.
Back in 2018 when the government was shut down to keep Trump from getting wall funds, a group called We Build The Wall said if the government wouldn't protect our borders, its citizens would.
They raised $20 million to start building the wall with private funds. Then they went almost silent for months and people wondered whether they would ever do what they promised.
Today they just delivered in spades.
From the Washington Times:
A private group announced Monday that it has constructed a half-mile wall along a section of the U.S.-Mexico border in New Mexico, in what it said was a first in the border debate.

The section was also built faster and, organizers say, likely more cheaply than the government has been able to manage in recent years.
That's amazing – a border wall funded by We the People.
Take that, Nancy and Chuck!
The American people believe a nation that cannot defend its borders will not be a nation for long. Open borders will lead to the destruction of our amazing nation.
That's not what our brave men and women gave their lives for.
So we should be proud to see Americans step up and build the wall themselves. It's our country, and we're taking it back.
And we need to keep cheering on such acts of boldness and bravery. The border is not a safe place, and finishing the wall is a massive task.
Will you hear about this amazing accomplishment in the media? Of course not.
The only way everyone (especially liberals) will hear is if patriots get out the word.
SHARE to thank these citizens for getting the wall built!
Source: Washington Times
Trump Demands Investigation Into Obama – His Sweetheart Deal Is In Trouble
Donald's finally going after him – here it comes, Barry!
Boy, the Democrats really can't let things go, huh? And Trump is getting fed up with their never-ending investigations.
Mueller's final report cleared Trump of wrongdoing—so Democrats dragged out the old man to testify. He confirmed what was in the report during his hearing, not providing anything new that would condemn the president.
Yet today, the left still pushes for more investigations. Instead of doing anything to help Americans.
So, Trump is calling for an investigation of his own.
From The Hill:
President Trump on Friday lashed out at Democrats… suggesting there should instead be probes into former President Obama's book deal and other activities under his predecessor…

"They could look into the book deal that President Obama made. Let's subpoena all of his records," Trump continued.
Look out, Obama! What's good for the goose is good for the gander. If Democrats keep trying to harass Trump with investigations, perhaps his DOJ will look into Obama's sweetheart deal.
I mean, seriously, why in the world did Obama and his wife get $65 million in advance for their books?
Presidents get book deals all the time. And they usually make a nice dime from them. But $65 million—before the books are even written?
I'm not saying anything criminal was going on, but that kind of situation warrants a little bit more scrutiny than none at all.
While the Democrats try to re-investigate the 2016 Election, over and over and over again, they ignore any potential wrongdoings by other Democrats.
That includes Hillary Clinton and the questionable actions she took during the election. The fake dossier was created under her orders, after all. She colluded for foreign agents to create a dossier aimed at taking down a political rival.
Um… no investigation? Nothing? Mueller was supposed to look into Russian inference in the election, but never once looked at Hillary?
No, nothing fishy there!
Then, right after Obama leaves office, he gets a big fat book deal just to write down what little he did over his time in office.
And that's only for starters! The man went on a six-month-long vacation. Paid for by whom? Plus, he got a nice fat job at Netflix.
Sweetheart deal after sweetheart deal after sweetheart deal.
Maybe the DOJ should actually start doing their job, huh?
SHARE if you want a new investigation into Obama and his officials!
Source: The Hill