The Enduring Mystery of D.B. Cooper
For a generation of kids who came to understand a variety of cultural references (The Shining, Cape Fear, The Godfather, etc.) through media like The Simpsons, D.B. Cooper has come to be understood through any number of throwaway mentions of his name—either from Kid Rock song lyrics, as a plot device on NewsRadio, or even as a sight gag on the animated sitcom We Bare Bears. And there's a good reason why: the lore surrounding the plane hijacker who came to be known as D.B. Cooper is unmatched in its scope. From his fateful flight to his inexplicable disappearance and all the theories that popped up afterward, the tale of D.B. Cooper is one of the most fascinating and enduring mysteries of the 20th century.
From Portland to Seattle
So, to the uninitiated, who is D.B. Cooper? Well, we don't actually know. The media granted that name to the mystery man (a misspelling of the name he initially went by) and we have almost no information about him. All we really know is what happened on the night before Thanksgiving, 1971. A man who identified himself as Dan Cooper bought a one-way ticket at Portland Airport for the short flight to Seattle on Northwest Orient Airlines Flight 305. Mr. Cooper boarded the flight, sat down, lit a cigarette, and ordered a bourbon and soda—ahh, those were the days. When the plane was in flight, he handed a note to one of the flight attendants, who assumed he was making a pass at her. It all could've gone wrong just then—she pocketed the note without reading it—but the passenger then whispered to her, "Miss, you'd better look at that note. I have a bomb."
She read the note, which instructed her to sit down beside him. He showed her the bomb he was carrying, in a briefcase, and she informed the pilot of the man's demands. He wanted $200,000, four parachutes, and a fuel truck waiting in Seattle to refuel the plane they were on. The pilot relayed this information to air traffic control, who alerted the authorities, but the passengers were just told that there were mechanical difficulties behind any delays. On the ground, authorities worked quickly to secure the money and parachutes. In the meantime, the crew remarked that Cooper was exceedingly polite, and even attempted to pay for and tip on the two bourbon and sodas he'd drank. When authorities had Cooper's demanded supplies ready, the aircraft landed and Cooper released all passengers and two flight attendants.
The Detour and the Disappearance
Cooper informed the crew of their next destination, Mexico City, and gave them specific instructions on how to fly. The crew told Cooper that they wouldn't make it all the way to Mexico City even with a full tank, so a second refueling stop in Reno, Nevada was planned. After refueling, the plane took off from SeaTac Airport with Cooper and four crew members aboard. As they flew, no fewer than five planes tailed them. Despite this extensive tail, no one was able to see what happened next.
About half an hour after takeoff, Cooper asked the entire flight crew to congregate in the cockpit. At some point in the next two hours, Cooper opened the aft airstair door and dove from the plane. The crew knew the door was open, but were unsure if Cooper had used it; they remained in the cockpit when they landed in Reno while authorities searched the plane for Cooper. He was, of course, nowhere to be found.
An Investigation Begins
No one knew when Cooper had jumped from the plane, or when he'd pulled the ripcord on his parachute, and neither of the Air Force pilots tailing the hijacked plane had seen the jump, so it was a Herculean task for authorities to attempt to pinpoint an area to search for the polite fugitive. Different agencies came up with different calculations, but ultimately, the FBI settled on a jump time of 8:13 PM based on a simulation they'd done, and the fact that the tail of the plane had jumped up at that point in the flight—likely from the sudden loss of Cooper's weight. At 8:13 PM the plane had been flying over a river in southwestern Washington, but searches turned up nothing. Later interviews with the pilot determined that spot was wrong, and that the drop zone was likely SSE from where they had searched.
The FBI also worked to trace the money that Cooper stole, as they'd taken records of the serial numbers before delivering it. Rewards were offered for any bills featuring the numbers, but no real claims were made. The only legitimate evidence boiled down to just a few clues: a physical description of Cooper from the flight attendants (tall, average build, in his mid-40s); a discarded placard found in 1978 that was most likely from the plane; and finally, a significant discovery that was actually made by an eight-year-old nearly a decade after Cooper's disappearance.
Digging for Treasure
The little boy, named Brian Ingram, found three packets of Cooper's cash buried in the sand on the banks of the Columbia River. It totaled $5,880, and ended up being split between the FBI, the insurer who'd paid out the airline's claim, and Ingram himself. While there have been some recent discoveries that have been claimed to be physical evidence from Cooper's jump, none of it has been verified as of yet. The FBI has partial DNA from Cooper's clip-on tie, but there's no evidence that it necessarily came from Cooper. The same tie was analyzed by an independent team, who concluded that Cooper may have worked as a chemist or metallurgist.
The original and subsequent FBI profiles of Cooper varied—either he was a highly trained skydiver, or a bungling amateur who must've never successfully made the jump; he was alternately in it for the money or simply a thrill-seeker; he was a sophisticated and experienced criminal who'd studied the Lindbergh kidnapping, or, a polite Canadian. In the end, between 1971 and 2016, the FBI went through over 1,000 possible suspects—and those were just the ones they found plausible, not to mention those who claimed to be Cooper but were proven to be lying. Then, of course, there was the rash of copycat hijackings that followed—15 alone in 1972, the year after Cooper's disappearance.
The hijacking of Flight 305, the mysterious vanishing of its perpetrator, and the sporadic discovery of evidence ever since, has led to enduring interest in the case. It's become a veritable 20th-century legend, and had been referenced across a variety of media—most frequently as a plot device on crime shows like Prison Break, The 4400, and The Blacklist. It's even drawn tourism to the area where Cooper supposedly landed after he jumped. The case remains the only unsolved case of air piracy in history, and Cooper has become a sort of folk hero. The FBI officially suspended their investigation in 2016, and if the suspect was in his mid-40s in 1971, he'd be 92 today. Although independent groups of scholars and amateurs alike attempt to parse the case and uncover new evidence, it's probable that D.B. Cooper passed on long ago, and we'll likely never really know his true identity. Still, that doesn't make the case any less fascinating, and it's safe to say that the brief flight and mysterious disappearance of D.B. Cooper will remain a part of American legend for years to come.
Pelosi Slipped Another Liberal Goody Into Her Bill – She Wants To Give Millions Through PPP To Planned Parenthood
Nancy Pelosi kept the House closed as her party developed a massive spending bill.
The $3 trillion package is supposed to battle the virus. But it includes a liberal wish list, including blue state bailouts and tax cuts for rich liberals.
And now, here is another little nugget Nance slipped into it…
From Live Action:
While the bill contains the Paycheck Protection Program, it removes safeguards preventing abortion facilities from applying to receive funds. The aid local and state governments receive from the federal government can be used to aid abortion facilities.
Wow. Pelosi's "HEROES" bill will extend the Paycheck Protect Program, but it removes a rule that prevented Planned Parenthood from getting money.
Which means a chunk of this $3 trillion package could go to this group, and groups like it, that are despised by the conservative right.
Keep in mind, Planned Parenthood already gets a large amount of funding from the federal government.
Not to mention funding from state and local government AND private donations from liberals.
So, do they really need to take money from a program meant to save businesses struggling with lockdowns?
What does PP do that has any connection with COVID relief? Shouldn't this money go to healthcare workers on the front lines?
The silver lining in all this is that this bill has little chance of passing in the Senate. And the White House has already promised to veto it if hell freezes over and it makes it to Trump's desk.
But this bill is a perfect picture of Nancy's—and the rest of the Democrats'—priorities.
While America battles to save the economy, she's throwing money to Planned Parenthood.
SHARE if you stand against Nancy Pelosi's far-left bill.
Source: Live Action
Omar Thought She Deleted The Tweet – Then "Texas Ted" Drops His Senate Hammer
She slipped up and tried to cover it up – so Cruz brought it crashing down on her.
Ilhan Omar is shaping up to be the worst decision Democrats have ever made.
She's been making terrible arguments for the Democrats. But she recently said something she had to feverishly delete immediately.
But nothing disappears on the Internet. This is what she said: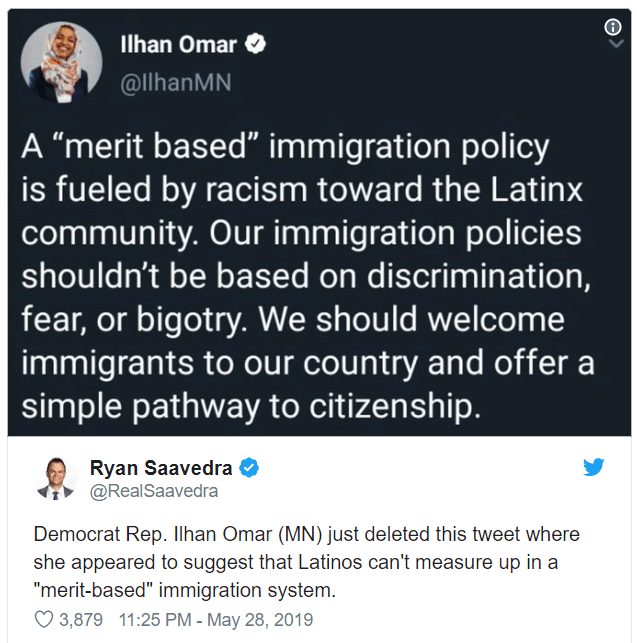 Hmm… sounds like she's saying Hispanic immigrants aren't educated or qualified to meet merit-based standards. Because she is.

Wow. Omar thought she could trash the president. But she ended up insulting millions of people. And Ted put her in her place!
Her tweet revealed what Democrats really think about Hispanic immigrants. Why do Democrats think Hispanic people can't meet very reasonable merit-based standards?
A merit-based system means that skilled, educated, and qualified people will be able to enter the country.
That's a good thing for America and immigrants. Only Democrats seem to want to keep good, skilled people out of this country.
We need good people to come to America. And we need to get rid of our broken immigration system that hasn't worked for decades.
Thank goodness for leaders like Ted Cruz, who will stand up to the Democrats and support real improvements to our country.
SHARE if you want to see Omar GONE!
Source: Fox News
After Democrats Hold Up Border Wall – Private Citizens Get The Job Done For Trump
Democrats said they had no chance – well, look at them now.
The Democrat Party has done everything possible to stop Trump's new wall – but they never saw these guys coming.
Back in 2018 when the government was shut down to keep Trump from getting wall funds, a group called We Build The Wall said if the government wouldn't protect our borders, its citizens would.
They raised $20 million to start building the wall with private funds. Then they went almost silent for months and people wondered whether they would ever do what they promised.
Today they just delivered in spades.
From the Washington Times:
A private group announced Monday that it has constructed a half-mile wall along a section of the U.S.-Mexico border in New Mexico, in what it said was a first in the border debate.

The section was also built faster and, organizers say, likely more cheaply than the government has been able to manage in recent years.
That's amazing – a border wall funded by We the People.
Take that, Nancy and Chuck!
The American people believe a nation that cannot defend its borders will not be a nation for long. Open borders will lead to the destruction of our amazing nation.
That's not what our brave men and women gave their lives for.
So we should be proud to see Americans step up and build the wall themselves. It's our country, and we're taking it back.
And we need to keep cheering on such acts of boldness and bravery. The border is not a safe place, and finishing the wall is a massive task.
Will you hear about this amazing accomplishment in the media? Of course not.
The only way everyone (especially liberals) will hear is if patriots get out the word.
SHARE to thank these citizens for getting the wall built!
Source: Washington Times